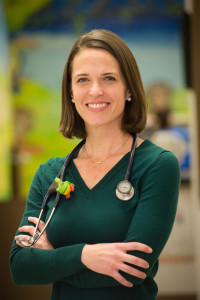 Dr. Lindsay Frost joined CCP soon after becoming a new mom. Despite being a pediatrician by training, her kids – Holden and Calla – have taught her leaps and bounds about pediatrics first-hand!
Born and raised in San Diego, she first moved to the east coast to attend college at Harvard. Dr. Frost then worked in health management consulting in Washington D.C. before heading back west to medical school at the University of California, San Diego. During that time, she also decided to pursue a master's degree in public health at San Diego State University. There she studied behavioral health and took a special interest in health promotion, working on interventional studies in obesity prevention and tobacco cessation.
A career working with children has always been of interest to Dr. Frost, and as soon as she started her pediatrics rotation in medical school, she knew it was the specialty for her. The strong community pediatrics and advocacy program at the Children's Hospital of Philadelphia again drew her to the east coast. She continued to be involved in community pediatrics and advocacy during residency, both at CHOP and through the American Academy of Pediatrics. Between her public health interests in health promotion and clinical interests in growth and development, a career in primary care pediatrics became the perfect fit.