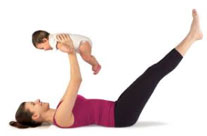 Facilitated by Hina Sheth, MS, PT, OCS
Much of your focus leading up to the birth of your child is preparing for their arrival. You prepare the nursery, fill the drawers with onesies and stock the changing table with diapers. Once they make their appearance, the focus remains on them. How are they eating, what about sleep and wow – they are so cute! Where does that leave you?
Center City Pediatrics and Center City Pediatrics Bala Cynwyd recognize that caring for baby often means caring for mom as well. Your postpartum health is critical and learning how to take care of yourself while you're taking care of your newborn is vital. "Why Is My Body Falling Apart After Having The Baby?" will give you the tools you need to keep yourself healthy, active and engaged.
Taking Charge of Postpartum Health Starts Here
"Why Is My Body Falling Apart After Having The Baby?" is offered monthly, on a weekday evening, in our Center City Philadelphia office. During this 90-minute interactive workshop, facilitator Hina Sheth (MS, PT, OCS) will explore a variety of topics impacting postpartum health, including:
When to start an exercise program
What exercises are safe
How to heal – or prevent – diastasis recti
Implications for c-section and perineal scars
Common aches and pains (lower back, hip, pelvis)
Alleviating common postpartum dysfunctions (incontinence, prolapses, painful intercourse)
To allow you to focus, it is best to attend this class without your child. However, feel free to bring non-walking children if alternative plans aren't available.
You do not need to be a patient of either Center City Pediatrics or Center City Pediatrics Bala Cynwyd to participate in our classes.
Each session costs only $15. Advanced registration is encouraged, however walk-ins are always welcomed. Please see the calendar for a full listing of class dates and to register online.