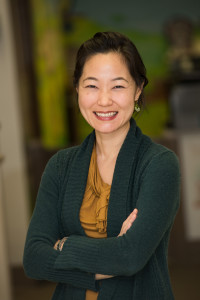 Dr. Grace Lee's path to Center City Pediatrics was a fortuitous one. After she graduated cum laude with a Bachelor's degree in Economics from UC Berkeley, she obtained her medical degree at Northwestern University, earning distinction with an induction into the Alpha Omega Alpha honor medical society. Her love for children made pediatrics a natural choice, and she went on to complete her pediatric residency at The Children's Hospital of Philadelphia (CHOP) in 2008. Intellectual curiosity and passion as a children's health advocate paved the way for her early career as a clinical researcher studying vaccine-preventable diseases including pneumonia and influenza, in addition to working as a pediatric hospitalist at CHOP. She subsequently completed a fellowship in pediatric infectious diseases at CHOP in addition to a Master of Science in Clinical Epidemiology at the University of Pennsylvania, and continued her research work as a clinical epidemiologist while caring for children as a pediatric infectious diseases specialist at CHOP.
Despite her love for her specialty, the challenges of balancing an academic career and clinical work with being an involved mother of two children led Dr. Lee to seek an alternative way that she could continue to do what she loved best: educating families and keeping children healthy. She had long known Dr. Berger, having trained alongside his wife in residency, and many times they had jokingly mused about Dr. Lee joining the practice. With this new stage in her career, she has made that a reality, and has joined CCP as a part-time medical provider. Dr. Lee has been taking her own children to CCP since its early days and continues to sing its praises as a progressive medical home for children in the city. A California native, she and her husband now call Philadelphia their home. They are committed to living and raising their family in the city and are no strangers to the delightful surprises, adventures, and challenges of raising "city kids." Outside of the office you may see her at the playgrounds with her children, browsing the city's farmers' markets, or running on the Schuylkill River Trail!
Dr. Lee is Board Certified in both Pediatrics and Pediatric Infectious Diseases. She has authored over a dozen peer-reviewed publications and pediatric book chapters, and serves on the American Academy of Pediatrics (AAP) Section on Infectious Diseases, in addition to other leadership activities within the AAP. She believes that the most successful strategies for keeping children healthy (and parents sane) are family-centered, preventive, and evidence-based.