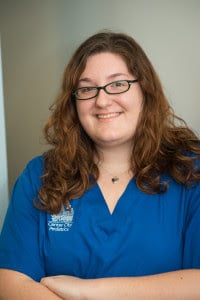 It is hard to believe we have been living in "the new normal" for an entire 6 months. I wanted to take this opportunity to reach out to our community to address frequently asked questions and misconceptions that I am hearing and explain a lot of the challenges we are facing in the time of COVID-19. For those who do not know me, I am the head registered nurse at Center City Pediatrics and I have been with the practice for eight years. Some of you may know me by voice only, as I am part of the small but mighty triage nurse department.
We appreciate your patience during this stressful time and are so thankful you have chosen us to help you, even if this help looks a little different to each one of your families.
Stay Healthy,
Nurse Julie
---
Well & Sick Visits
Being a medical home has certainly changed during the pandemic. Currently, our Bala Cynwyd and Fishtown locations remain designated offices for well and routine care only. In-person sick visits are only being scheduled at our South Street location.
We follow a special protocol for in-person sick visits which involves only one caregiver accompanying the child and being directly escorted into an exam room by a CCP staff member upon arrival. This ensures that any child presenting with a possible COVID-19 symptom is not spending any time in the waiting room. Any sick visit appointment is seen only by a medical provider to limit exposure to other office staff. Full personal protective equipment is utilized for these visits. The providers are cleaning the rooms themselves after each visit to ensure the highest attention to detail. Exam rooms for sick patients are then closed after use for an extended period.
Because of the stringent cleaning and isolation procedures in place, the South Street location has less room availability than we had previously. Combined with our efforts to keep the waiting room socially distanced, we were only able to see select ages for well care at this location during the summer, although this Fall, this has changed! Many patients are choosing to be seen at our brand new Fishtown location, thus freeing up space to bring in more "well visits" to South Street.
During this challenging time, we want to ensure that your children are staying up to date on vaccines and routine health care and screenings. These pivotal growth and developmental visits, as well as routine childhood vaccines, cannot be replaced by urgent or emergent pediatric care. We have been working hard to increase staffing availability and optimize our scheduling, and we are excited to announce that we can now start to welcome back children of all ages at the South Street office. Please bear with us as we prioritize children rescheduled from the early spring. Our Bala Cynwyd and Fishtown locations continue to have an abundance of well visit availability, for all ages. Many of our providers do travel to satellite offices, so please inquire with a scheduler, or send a Follow My Health message to see if this is an option for your family. Want to know what to expect at your upcoming well visit? Check out our new Well Visit Library for news about anticipated vaccines, growth and development milestones and popular topics at every age.
And regardless of the location or the type of visit you have scheduled, please always check our office protocols before your appointment. Policies are changing regularly as part of our COVID-19 response, and this page will always provide current information.
---
COVID-19 Pre-Screens for Office Visits
One of the things that has made this pandemic so challenging is that symptoms of COVID-19 vary widely. Symptoms of COVID-19 may be minimal/absent or severe. They may also present in several ways, including cough, runny or stuffy nose, vomiting, diarrhea, abdominal pain, headache, fatigue, body aches, sore throat, or loss of taste or smell. Fever may be present, but not always. In addition, studies have shown that it is not uncommon for children diagnosed with COVID-19 to also have another respiratory virus present at the same time. Therefore, the child with "just a daycare cold" could have COVID-19. Mild symptoms or short duration of illness is not reassuring enough when ruling out COVID-19, and the diagnosis of another illness, like an ear infection, does not mean that COVID-19 is not also a possibility.
For this reason, we have developed strict pre-screening guidelines for both wellness care and flu shots. The screener will be emailed/texted to you 48 hours before your appointment. All caregivers must complete the COVID-19 screen prior to coming to the office. If your responses indicate that your child is exhibiting certain symptoms, has had a recent exposure to a confirmed case of COVID-19 , has recently traveled internationally or to a state designated as a high-risk area by the PA Department of Health, your visit must be rescheduled at least 14 days later. We know this presents challenges to working and busy families, but it is necessary for us to adhere strictly to public health guidelines in order to keep our patients, our staff, and our community safe.
---
COVID-19 Testing
Unfortunately, COVID-19 testing options are still fairly limited for children. Testing recommendations are dependent on the individual circumstances of the patient and their household. We are not routinely doing COVID-19 testing in any of the office locations. Our triage nurses can register established patients for outpatient testing at CHOP in conjunction with the Philadelphia Department of Public Health, if they have COVID-19 consistent symptoms that do not require additional medical care, and if they are a child attending in-person schooling, daycare, unavoidable exposure to a higher risk individual, or live with a parent or adult in who is an essential or healthcare worker. This is only available Monday – Friday and must be discussed with a member of our healthcare team. Unfortunately, we are not able to coordinate testing for a child who requires one in advance of traveling.
Local urgent cares are also offering COVID-19 testing. Sites we recommend include PM Pediatrics and CHOP Urgent Care. PM Pediatrics has locations in Wynnewood, Cherry Hill, and Abington. Please call ahead to complete a pre-appointment screening and confirm with each individual location the hours of operation. There are no specific criteria for testing at PM Pediatrics. CHOP Urgent Care has locations in Bryn Mawr, Chalfont, and King of Prussia. Your child will need to meet certain criteria to be tested at CHOP Urgent Care. No referral from our office is necessary.
---
Known COVID-19 Exposure
If you've had close contact with someone known to have COVID-19 (within 6 feet distance for at least 15 minutes), the current recommendation is to self-isolate and monitor for symptoms for 14 days after the last contact with that individual. There are many things that can contribute to risk, including frequency of exposure, indoor or outdoor setting, masking or not masking, and length of time. If your child develops symptoms associated with COVID-19 in the 14-day isolation period, your child should be tested. Please contact our office for help with this.
Routine testing of asymptomatic individuals after a COVID-19 exposure is not routinely recommended, however may be strongly considered if someone in your home is either at higher risk, a healthcare worker, an essential worker, or your family has significant community exposure (e.g. uses daycare, attends in-person schooling or afterschool programs, etc.). Those who wish to be tested should wait at least 7 days after the exposure, as testing too early may be more likely to result in a false negative, due to not enough virus present to be detected on the test at that time. Those who test negative should still remain quarantined for the full 14 days and continue to monitor for symptoms, and seek repeat testing if symptoms develop during that period. Note that if the exposure to someone with COVID-19 is continuous (someone you live with) you must first wait until the COVID-19 "positive" individual meets criteria to discontinue quarantine (10 days from symptom onset AND fever free for 24 hours) with improving symptoms and THEN the 14 day isolation and monitoring period begins.
Having contact with someone who is being tested for COVID-19 but whose results are not yet known is different than direct contact with someone who is confirmed to have COVID-19. In general, this is associated with less risk. If the "person under investigation" (PUI) ends up having a positive COVID test, follow the previously stated instructions.
---
Return to School/Daycare
For school or daycare center exposures to COVID-19, Center City Pediatrics is not able to give direct advice on when the classroom or exposed children are able to return. This is done under strict guidance by the local public health department to ensure compliance and consistency with all children in that specific situation.
Upon request, we will provide a note that indicates whether a child was tested and will include the result if we have it documented from a testing site. We have notified many schools and day cares in are area, so they are aware of our policy.