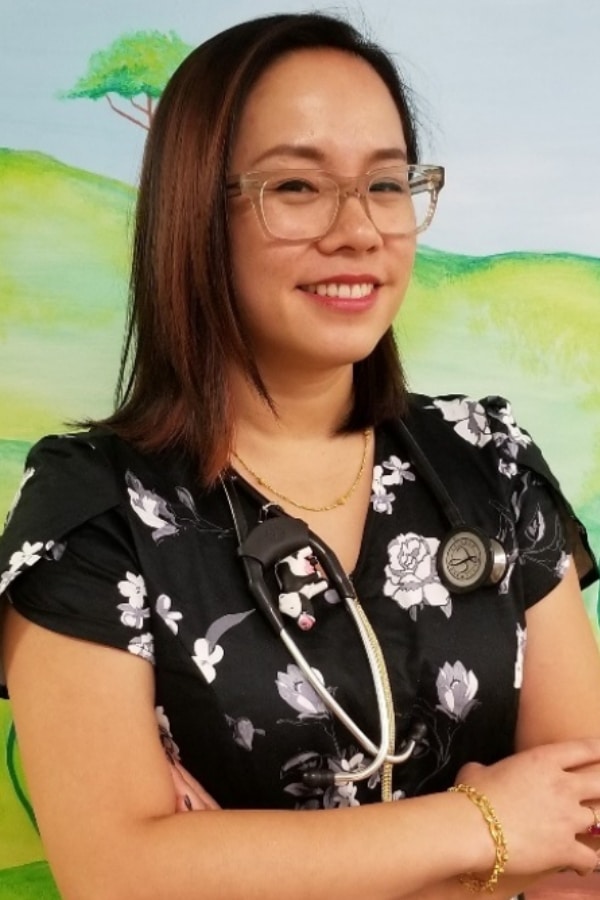 Dr. Chiang joins Center City Pediatrics as part of her "mid-life adjustment"—not a crisis, just time for a change. Prior to joining us, she worked for 9 years in the CHOP system as a hospitalist. Although she enjoyed this work, the demanding schedule limited the time she could spend with her family. She also was ready to focus on families in her own community and "settle down" into an ordinary routine.
Ordinary and routine, however, do not match her bubbly and adventurous spirit. Dr. Chiang was born in Taipei, Taiwan, and has traveled throughout the world. She moved to Los Angeles in elementary school, and then attended high school in New Jersey. Subsequently, her love of cities drew her to New York City, where she attended NYU and studied biology and art history.
As an undergraduate student, she explored marine biology and clinical research in complementary medicine. Ultimately, the joy and the challenge of working directly with people pushed her to pursue a career in medicine. During medical school at the New York College of Osteopathic Medicine, she briefly entertained a future in surgery. She participated in a medical mission to Honduras focused on helping children with cleft palate and club feet. During this time, she was so impressed by the way families overcame seemingly insurmountable obstacles with love and dedication to each other. After that trip, she decided to change her focus from the pursuit of the clean and controlled operating room to the fun, messy and unpredictable playground that is pediatric care. At the end of the day – she knows that there's nothing better than a child's smile or a fist bump!
When not serving her own children at her home in Fairmount and other people's children at Center City Pediatrics, she loves gardening, knitting, cooking, and exploring US cities. Keep an eye out for her—you might just see her flying around on her new set of "wheels" – a bright blue scooter— which she plans to ride to the new Fishtown office.