Already have an active FMH account, but want to add another minor child? Before getting started, confirm that you have:
an internet connection with an updated browser (Internet Explorer, Chrome, Firefox)
a valid email address
an invitation email from Follow My Health (read below for steps to complete your request form and receive an invitation email)
To get an invitation email, parents/legal guardians should complete the FMH Access Request Form. The completed form can be submitted online. Paper copies are also available in our office to complete in person, via fax or email. Approximately 3 business days after submission, you will receive an email from Follow My Health.
The email will include instructions to create your username and password. Please note that your invitation code will expire 30 days after that email is sent, so don't delay in taking the next step. Of course, if you are beyond the expiration date, you can contact our office to have a new email sent to you.
At the end of the set-up, you will receive another email confirming that your account has been established. As with all logins, keep your username and password in a secure location.
After your account is established, you can login to access your child's health records. But first, you must switch from your account to your child's. Simply go to the top of the screen to the "Hello" greeting and choose your child's name from the drop down menu.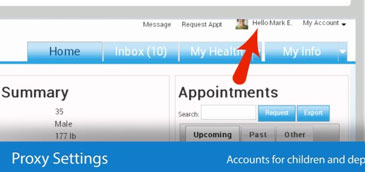 Feel free to contact us with questions at any time.