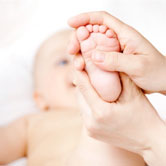 Facilitated by Erica Desper, Certified Educator in Infant Massage
Have you heard about the benefits of infant massage, but are unsure how to incorporate it into your routine? Do you want to learn the basic strokes to calm and soothe your baby? Introduction to Infant Massage is the workshop to get you started.
Learn About Infant Massage with Our Philadelphia Certified Educator
Center City Pediatrics and Center City Pediatrics Bala Cynwyd recognize the advantages that infant massage has shown, including:
Improved blood circulation
Better digestion
Enhanced development of the nervous system
Stimulation of neurological development
Heightened alertness and awareness
Decreased stress hormones
Stronger sleep patterns
Superior immune function
Increased weight gain, particularly for premature babies
Introduction to Infant Massage is offered regularly in our Center City Philadelphia office. Please bring a bed-sized pillow to use during class. Massage oil will be provided, though it is optional. During this 60-minute workshop, facilitator Erica Desper will show you proper positioning, walk you through the basic strokes, explain the benefits of each and make sure you leave confident and prepared to make massage part of your routine.
Erica Desper is a certified educator in infant massage through Infant Massage USA. She is also a certified baby and sleep child coach. You can check our other classes she teaches on our class calendar.
You do not need to be a patient of either Center City Pediatrics or Center City Pediatrics Bala Cynwyd to participate in our classes.
Each session costs only $30. Advanced registration is highly encouraged. Please see the calendar for a full listing of class dates and to register online.