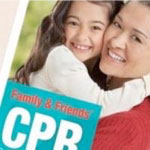 Facilitated by Courtney Conway, Certified American Red Cross CPR Instructor
As caregivers, we seek to minimize the risk of anything happening to our children. We baby-proof our homes, travel with the safety of a car seat and call the pediatrician when the fever spikes. All of these are tools to keep our children safe. But accidents are sudden. Emergencies can happen anywhere.
We know that CPR training saves lives. The ability to provide immediate care to your infant or toddler is invaluable. This is a perfect course for parents, grandparents, babysitters and caregivers!
Infant CPR Class for Philadelphia Parents & Caregivers
Family and Friends CPR is a non-certification course taught by Courtney Conway, a certified American Red Cross CPR Instructor. Courtney will prepare you for a variety of situations that infants and children up to 8 years of age could face, including:
Choking
Cardiac arrest
Respiratory arrest
Infant & Toddler CPR is a 75-minute, fast-paced discussion and your focus guarantees your mastery of the material. As such, please consider leaving your little ones with another caregiver for the morning.
You do not need to be a patient of our offices to participate in our classes.
Each session costs only $65 per caregiver. Advanced registration is required and space is limited. No walk-ins please. Please see the calendar for a full listing of class dates and to register online.