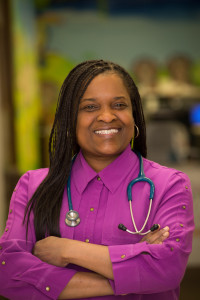 Coincidence, or luck, if you prefer, has brought Dr. Cynthia Warren to Center City Pediatrics. In the fall of 2007 her husband, Dr. Wilbert Warren, knew he had to move his thriving internal medicine practice. While negotiating for adjacent medical office spaces on the 3rd Floor of 1740 South Street, he and Dr. Berger met. Knowing that Dr. Warren's wife was an outstanding pediatrician, Dr. Berger suggested that she and her husband should commute to work together. Seven months later, this little tactic paid off—Dr. Warren has decided to join Center City Pediatrics located next to her husband's office, and Center City Pediatrics is thrilled to have her with us.
EDUCATION
Dr. Warren graduated Cum Laude and received her Bachelor of Science degree in Zoology from Howard University in 1988. She went on to the University of Rochester School of Medicine and Dentistry where she earned her Doctor of Medicine degree (1992). In 1995 she completed her pediatric residency training at St. Christopher's Hospital for Children where she was awarded the Henry W. Baird Award for excellence in teaching, spirit of inquiry, and compassion for patients and their families.
EXPERIENCE
After completing her residency, Dr. Warren accepted a position at St. Christopher's Hospital for Children's outpatient clinic. She has worked in this academic setting for 12 years, treating children and teaching medical students and residents. For 6 years, she served as medical director for outpatient services.
PERSONAL
Dr. Warren is married to Wilbert Warren, MD, an internist and 3rd floor office neighbor. They are the proud parents of two wonderful children. In addition to her family, she is devoted to her church where she serves as co-leader of both the Preschool Ministry and the Health Team Ministry. Dr. Warren is pleased continue her long-held passion for pediatric education and partner with families at CCP to optimize the care of all children.