Our pediatricians share helpful information about preventing cavities for kids. Proper dental hygiene is an important habit to develop before any problems with teeth or gums arise.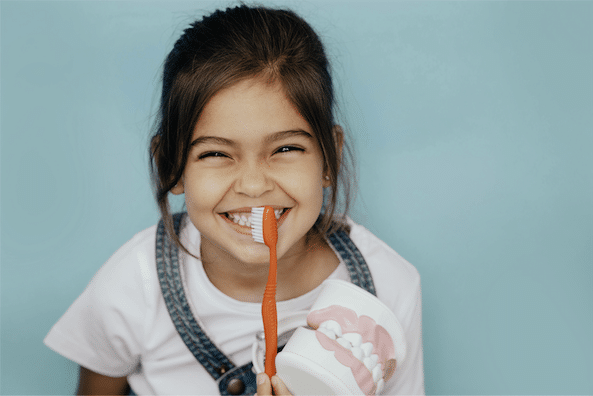 Dental caries (i.e. tooth decay/cavities) is the most common chronic disease of childhood in the United States. More than 40% of children have caries by the time they reach kindergarten! Fortunately, a large number of cases are preventable by establishing good oral health habits in early childhood.
What causes cavities?
Three factors play a role in the development of cavities: bacteria, carbohydrate-rich diets, and time. Bacteria colonize the baby's mouth from birth, but a significant colonization of tooth-adherent bacteria occurs right after a child has his/her first tooth. These bacteria metabolize carbohydrates and create acid as a byproduct, which then dissolves the enamel (a process called demineralization) and over time can create a cavity in the tooth.
Preventing Cavities For Kids: Our Top Tips
Parents, caregivers and siblings should avoid passing bacteria to babies through saliva.

Avoid sharing spoons and cups
Avoid tasting foods before feeding them to babies
Avoid cleaning off a pacifier in your mouth

Limit the frequency of carbohydrate consumption.

Avoid putting your child to bed with a bottle of formula, milk, or juice
Avoid frequently allowing your child to drink anything other than water from a sippy cup or bottle between meals
Avoid grazing between meals

Choose healthier foods.

Avoid juices (maybe at birthday parties only!)
Avoid sweet and sticky foods like candy, gummies, cookies, and Fruit Roll-Ups
If you are giving a multivitamin, avoid gummy vitamins
Sugar is in foods like crackers and chips too. Avoid these as much as possible

Expose your child to fluoride (which helps with remineralization of the enamel)

Check to see if you have enough fluoride in your tap water (for cooking/drinking) by checking on the website My Water's Fluoride
If your tap water does not have enough fluoride your child may need a fluoride supplement

Receive regular dental care

Make the first dentist appt within 6 months after the first tooth
Ask your pediatrician for dentist referrals at the one-year well visit

Practice good oral hygiene
Before the first tooth, clean your infant's gums with a soft clean damp cloth at least once per day
After the first tooth erupts, brush teeth twice a day with a rice-grain-sized amount of fluoridated toothpaste
Use a soft-bristled toothbrush with a small head
Once your child can spit out the toothpaste, use a pea-sized amount of fluoridated toothpaste
Have the child spit out the toothpaste, but not rinse with water
For effective plaque removal, make sure a caregiver brushes your toddler's teeth at least once per day
After children develop adequate fine motor skills (i.e. the ability to tie their own shoelaces; typically around the age of 7 or 8), they can brush their own teeth effectively but should be supervised by an adult
Once your child is old enough to tolerate it, floss daily to remove plaque between the teeth
Teach your child to drink from a cup by 12-15 months
Fluoride has 3 main mechanisms of action:
It promotes enamel remineralization
It reduces enamel demineralization
It inhibits bacterial metabolism and acid production
Fluoride facts:
For nearly 70 years, studies have shown consistently that fluoridation of community water supplies is safe and effective in preventing tooth decay
The Centers for Disease Control and Prevention has named community water fluoridation as one of the 10 great public health achievements of the 20th century
Fluoride exists naturally in virtually all water supplies and even in various brands of bottled water
Fluoride is not a medication. It is an important mineral that, when regulated at the right level in our drinking water, can prevent tooth decay and saves millions of dollars for families and the health care system
Drinking fluoridated water reduces cavities by about 25% in children and adults
Making sure that children also brush with fluoride toothpaste and see the dentist regularly for fluoride varnish has also helped with improving oral health
For more information visit the following sites:
American Academy of Pediatrics: Oral health
Maintaining and Improving the Oral Health of Young Children
Fluoride Use in Caries Prevention in the Primary Care Setting