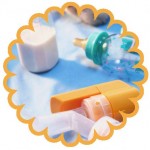 Medication and Help Hotlines
This hotline provides information on mother's medication and risks to bottle-fed infants:
1-806-352-2519
National Breastfeeding Helpline
A service from womenshealth.gov to help connect you with information and resources to answer your health questions.
1-800-994-9662
La Leche League USA Breastfeeding Helpline
This helpline provides information, education, and support for women who want to breastfeed, to healthcare providers and others.
1-877-452-5324
Local Resource Centers
Helpful Websites
Local support site for lactation consultants.

Parenting and breastfeeding resources.

Great site for moms preparing to return to work.
Linda's Recommended Readings
By Nicholas Day

By Douglas Quenqua