Unique circumstances call for unique solutions, and so Center City Pediatrics is pleased to offer expanded telemedicine appointments to our clients at this time. Learn more about what services can be completed via telemedicine, what to expect, and how to schedule an appointment.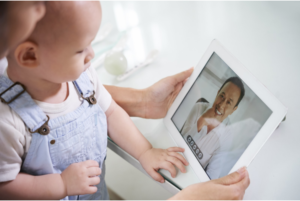 By now, everyone has heard about telemedicine. It's the new hip way of getting your medical needs taken care of, right? Absolutely. In a time when having access to healthcare is a necessity, without the risk of leaving one's home during "lockdown", using remote tools like telemedicine becomes invaluable. Telemedicine is a lot like a phone call with your doctor, but you see each other as well – like the ubiquitous Zoom call everyone uses for work these days. But how does telemedicine work at Center City Pediatrics? Who is it for? Who is the appointment with? What should you expect? And what will the experience be like both for you and for us, the providers at CCP?
What is Telemedicine Used For?
Telemedicine visits are geared towards most infants and children and their families who are already being routinely seen in our office. Other than newborn visits, routine well appointments and visits needing an office treatment/procedure, almost anything else is fair game. Concerned about that runny nose and cold? Make a telemedicine appointment. Not sure about that rash? Make a telemedicine appointment. Concerned about feeding, bathroom habits or sleep? Make a telemedicine appointment. If you have a newborn, have already had your first visit and have a baby scale at home, make a weight check appointment via telemedicine. Need to discuss allergies or persistent asthma? That can be reviewed with your provider on telemedicine, as well. Even a concern about fever, ear pain, a sore throat, an eye infection or cough can be managed with a sick visit via telemedicine.
How to Schedule a Telemedicine Appointment at Center City Pediatrics
You can make a telemedicine appointment either by speaking to one of our triage nurses or by using self-scheduling from our website. While you will be selecting a specific time, telemedicine appointments are actually scheduled for a range of two hours. This is just like when the cable company gives you a window of when the cable guy is coming to service your home. In advance of your appointment, we need you to review the Consent for Telemedicine, which is available on our website. You can also find some good tips on how to make the most of your visit. Please note that these visits will be billed to your insurance, so check your plan for details.
When scheduling, you will provide a cell phone number and an email address, with which will be used to initiate the visit. Either a text on your phone, or an email will be sent. Once you click on the link in this message, you will be directed to the website, Doxy.me, which Center City Pediatrics uses to provide telemedicine encounters. This will put you in our virtual waiting room. When the provider is "ready to see you", they will open the visit and your video connection will open. Thus, begins your office visit. Be prepared to answer questions, describe your concerns and give your child their chance to be a star on video (just like when you FaceTime with Grandma.)
What To Expect During a Telemedicine Appointment
All the providers at Center City Pediatrics get a chance to do telemedicine. Some of the time, we will be in the office. Most of the time, we are coming to you straight from our own homes. This has been a challenging time for everyone, including us. Just like you, we are juggling with this new reality of working from home, pretending to know how to home-school our children and trying to stay sane at the same time. Consequently, we are learning how to carve out a quiet corner in our homes, to focus our attention on you and your children, during these telemedicine visits. Personally, I have found a comfy chair to sit in, near a window with some nice natural light coming through. It has been fun for me to see families at home, maybe a pet nearby. It usually reminds me of my home, having more chaos than I would like to admit. It is ok when your child runs away or doesn't want to be the star. It is ok when the dog barks, or a child starts to melt down. I have come to learn that it is the same in every home.
The pace of this virtual visit will be a lot like an office visit. We will discuss your concerns, clarify all the pertinent symptoms, review any relevant history, and finally, "do an exam". What does that mean? Observing what is observable on video, perhaps having a caregiver push this, move that, describe how it appears and how it has changed. This allows us to see what your child's breathing is like, the nature of the rash and their general demeanor. One of the things that all medical students hear in the first year of medical school is that history is everything! By the time you get to the exam, you might already have a good idea of what you are going to see. After your appointment, you might receive a call from a staff member asking about your experience. Please help us improve our process by answering a few brief questions!
Leveraging Technology to Do What's Best for Our Patients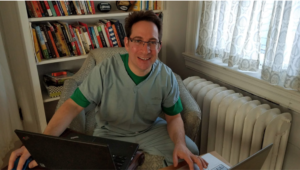 Our hope is that turning to telemedicine will allow us to provide the level of attention and availability that you have grown to expect from Center City Pediatrics. We recognize that telemedicine is not a perfect substitution for seeing a child in person in the office. Best practices dictate that prescribing certain medications, including antibiotics, is best done while physically examining the child. But these are exceptional times, and we will under certain circumstances be compelled to prescribe antibiotics or other treatments based on the telemedicine visit alone. In so doing, we will do our best in this moment to leverage technology in a way that makes sense for the health and welfare of all our patients.
Of course, much remains uncertain right now. As we move past the weeks and months ahead and the "old normal" (hopefully) returns, we will reevaluate our process and how telemedicine fits with our traditional appointments. Until then, while the situation around us always seems to be changing, we will continue to balance proactive planning with quick response, and will strive to provide the same access to exceptional care, whether that is from our office, or from your home.